Certified

ISO 9001:2015

The Best

#1 IN INDIA

Number #1

SUPPLIER IN REGION
Open Gym Equipment Manufacturers In Delhi, India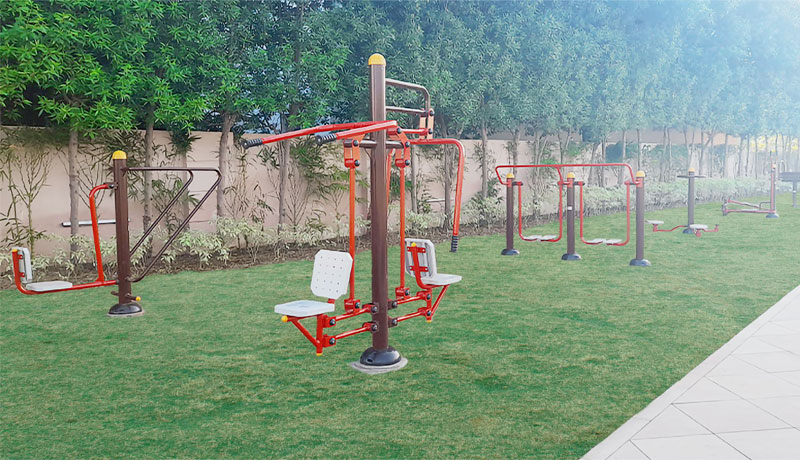 Best Open Gym Equipment Manufacturers in India
Looking for one of the best Manufacturers of Open Gym Equipment in Delhi? We have the best Open Gym Equipment in our portfolio to cater to your multiple needs. You can add it to your society garden, school, and public parks for getting maximum comfort and a great exercise experience. It works without electricity, hence, offers you long-term benefits. We promise that our offered Playground Equipment, Multiplay System, Open Park Gym Equipment, and Children Play Equipment's will give you value for money.
Top Benefits Of Outdoor Open Gym Equipment
Working out in an open environment has its benefits and, therefore, more and more societies and govt authorities are installing it in parks or terraces and more. These have been designed using the best material and resources to suit everyone and any age group. These are functional and comfortable and can enhance the experience of the exercisers. Being one of the best Open Park Gym Equipment Manufacturers in Delhi/NCR, Kidzlet Play Structures Pvt. Ltd. has the best solutions available to cater to your diverse requirements. We also offer Open Gym Machine, Green Gym Equipment, Outdoor Playground Equipment, Kids Play Equipment, Outdoor Open Gym Equipments, Outdoor Play Equipments, Outdoor Gym Equipment, Outdoor Fitness Equipment, and Gyms / Exercising Machines in parks and open spaces across India.
Open Gym Equipment - keeps You Fit And Healthy
Our Open Gym Equipment is designed dedicatedly for fitness freaks to promote a healthy and happy lifestyle. Our services include everything from design to installation. We have different variants of fitness equipment that strengthen and tone the body muscles and suits your exercise regimen.
Why Should We Invest In Open Gym Equipment?
We all aware that doing exercise is good for our physical and mental health which promotes a healthy and happy lifestyle. Our Open Gym Equipment has been designed for everyone and any age group. We have a different range of fitness and exercise equipment that strengthen and tone your body muscles. By maintaining our quality standards our company is counted as one of the leading Open Gym Equipment manufacturers in India.
Characteristics Of Our Open Gym Equipment:
Very easy and quick to install
Safe and suitable to use for different activities
Come in different designs, sizes, and other customizations
Require very low maintenance
Suitable for all age groups
Designed as per the specific demands of customers
Comes at highly affordable prices
Drop Us Your Requirements!
We are one of the eminent Playground Equipment, Open Gym Equipment Exporters, Children Playground Equipment Suppliers in India. offer See-Saw at a competitive price, Call us or write your requirements to discuss your specific design demands with our experts, we'd be glad to assist you.
Add Open Gym Equipment To Your Outdoor Facility
Make the most of your available outdoor space with our Open Gym Equipment. These are designed, as per the industry norms and available with us in multiple sizes, shapes, grades, and other configurations. Being a leading name, we use industry-grade material and modern techniques to manufacture these solutions at our in-house facility. To enquire more or to Buy Outdoor Exercise Equipment, Workout Equipment, Open Gym Equipment, Get in touch for more details about Double Sided Chest Press Machine, Outdoor Air Walker, Double Bar, Sit Up Board, Outdoor Running Machines, Outdoor Gym Sky Walker, Shoulder Builder, Fitness Cycle, Outdoor Gym Surfboard, Outdoor Chest Press Single, Sit-Up Station, Outdoor Palm Wheel, Outdoor Shoulder Wheel, Outdoor Mini Ski, Open Air Gym Equipment, Open Door Chest Press Machine, etc place your order now.
Open Gym Equipment Are Good Choices For You
Kidzlet Play Structures Pvt. Ltd. has reached an incredible milestone as we are one of the esteemed Open Gym Equipment Suppliers in Delhi, India, and hence we provide Outdoor Fitness Equipment, Swings, Slides, Merry Go Round, Multiplay Station, Seesaw, and all the Open Gym Equipment in Delhi, India at great prices. People expect to lead a healthy life and always want to be fit, for which Outdoor Gym Equipment or Open Gym Equipment can be a good option. In addition, we continually create new designs to meet your specific needs, in which we value safety as our first priority.

With years of experience, we have gained a great height in the industry, and we export our products all over the world, that's why we are one of the trusted Open Gym Equipment Exporters In Delhi, India, deals in Rope Play, Climber, Play System, Playground Swing, Jumbo Play Center and much more. We also deal in various types of Garden Furniture, Trash Bin, Outdoor Park Benches, FRP Benches, Kindergarten Furniture, Class Room Furniture and Outdoor Multiplay System In Delhi, India, once you browse our website, your search journey will end here. See our list of a huge range of products which you are looking for and we guarantee you won't find anyone better than us because our company is the first one who made equipment for special needs kids. Today we are considered a trusted Special Kids Playground Equipment Manufacturers In Delhi, India. If you're looking for Open Gym Equipment in Balod, Ganderbal, Bathinda, give us a call now!
Guidelines For Safe Open Gym Equipment Use
Safe Playground Equipment is designed under the supervision of expert professionals. Children need to be taught how to behave in the playground. It is also advisable to have safety instructions in the playground.
Make sure you don't push anyone on a slide, merry-go-round, See-Saw, swing, or other sports equipment.
Make sure all equipment must be used according to instructions - slides should be used on feet first, not standing on top of swings, etc.
Always keep an eye on other children when jumping or running.
To avoid unexpected injuries, keep food items, backpacks, and bags away from play equipment.
Using wet equipment on a playground is dangerous, as it can cause slippage and falls.
It should not be used when it is too hot. A fun round with a metal slide can get unbearably hot.
It is important to wear clothes that are not too loose. Getting stuck in sling bags or chains on equipment can result in injury.
We are the leading Open Gym Equipment Manufacturers in Delhi, India. Explore our wide range of Kids Playground Equipment from our website so that you can easily understand its benefits. At Kidzlet Play Structures Pvt. Ltd., we supply the best quality Inflatables, Riders & Outdoor Playground Equipment in Delhi, India at affordable prices. As reputed Multiplay Station Manufacturers and Suppliers in Delhi, India, we make it possible for our clients to buy playground equipment from anywhere. Our manufactured range is made from the finest and high-quality raw material and colors, which makes them look very durable and attractive. To buy our products in Balod, Ganderbal, Bathinda, call us today at: +91-9999515869
What is your company profile?
The stepping stone of Kidzlet Play Structures Pvt. Ltd. was laid in 2015 by Mr. Mandeep Bhola. It is his dedication that takes us to the top of the chart in a short period. We have gained a name as top-tier Open Gym Equipment, and Playground Equipment Manufacturers in Delhi/NCR. Our team of experts supervises every minute detail during manufacturing. We offer you nothing but the best that makes us the talk of the town.
What products do you offer?
Here is the list of the products we offer:
Playground Equipment
Open Gym Equipment
Outdoor Fitness Equipment
Open Park Exercise Equipment
Outdoor Playground Equipment
Kids Outdoor Multiplay Equipment
Kids Multi Action Play System
Outdoor Multiplay System
Playground Multiplay Slide
Children Multiplay System
Garden Multiplay System
Fitness Equipment
Play System
Multiplay Station
Park Playground Equipment
School Playground Equipment
Outdoor Multiplay Equipment
Play Equipment
What do you mean by the open gym?
An open gym is a gym that is designed outdoors. It is available for all students, families, and community members. As its name suggests, it is free for all, and you can perform several activities there.
What are the benefits of an open gym?
There are various benefits of an open gym. Let's have a look:
Lower the blood pressure of the body
Enhance the quality of sleep
Reduces the level of stress
Help to alleviate insomnia
Suitable for the wallet, free of charge
Offer variation in your training environment
Get a chance to try something new
Boost up your mood
Enjoy the benefits of sunshine
Let you breathe in fresh air
What is the most popular open gym equipment?
Chest press
Leg press
Abs shaper
Stepper
Triple twister
Air walker
Shoulder press
Arm wheel Scaling ladder
Push and pull chair